Print it like a t-shirt with transfer-technic.
The LUCKY BEETLE armbag has at the frontsite a deco-surface made of cotton or polyester-fabric, which you can print like a t-shirt with transfer-technic.
Films-, flock-, screenprint-, offset-, sublimations-, hotfix strasses-transfer ... everything is possible! Hufnagel-Design offers therefore plain blanco-armbags with uni-colour front in black or white from 500 pieces on.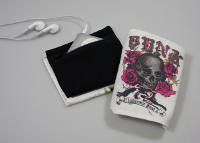 Own designs or spezial making-ups in small editions, with transfer-technic printed quickly on the bags – so you are able to react flexible to current events.
Now, for a short time, we have a special action for introducing.
You get armbags for the transfer-print from 50 pieces on, to check it.
You can order 50 blanco-armbags in a counter-display with a wrap packaging for dispatch.
... and how it works, the transfer-print:

For printing, the deco-surface will be simply pulled straightly over the stretch-tool
(order-code: HZT-1).
This stretch-tool with the pulled-off armbag you now can easily lay on the underplate from your excisting transfer-press.
In case of bigger editions, it would be worth, to fix it instead of the underplate directly at your transfer-press.
Now you put your transfer-picture on the deco-surface of the armbag and apply your design with heat and pressure on the material. After that, pull off the carrying paper and your individual printed armbag is ready!
Stretch-tool: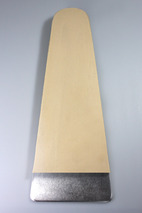 You need the stretch-tool for the printing of the armbag with transfer-print.
Size of this tool: 31 cm long, coming up conical, maximum 12 cm broad.
Consisting of aluminium with silicon on the surface.