distributor-info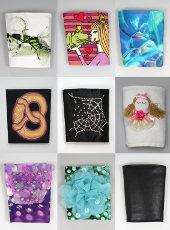 Wrist-bags are not a new development.
What is new is the patented LUCKY-BEETLE armbag, whose frontpart can be individually designed and seems from outside like a fashion-assesory. It does not matter if textile-print, embroidery or 3D-application, here everything is possible, for many
uses
. At the inside of the arm is the
bag-pocket
placed.
We offer the armbag in a complete version, as spezial edition with your exclusive-design or as blanco-version for your transfer-print.